Insex – 49's Audition [FullHD/2022]
Tags:
BDSM
bondage
INSEX
Tags:
BDSM, bondage, INSEX
In her audition at Insex, feisty 49 gives PD and Matt a real challenge. After her interview, she attempts to escape the ropes that hold her arms behinder back. PD uses hooks to pull her nose up and to lift the corners of her mouth into a smile. He pushes her dress down, revealing her firm breasts, then allows her to continue writhing in vain. Stripped of all her clothes, she is rendered helpless with tape wrapped around her hands and feet. A cord tethers her to the floor, pulling harshly at the clamps on her nipples. Matt inserts a stim in her ass to ensure that she behaves herself. He makes her beg to suck cock, giving her shocks until he is satisfied with her pleas. She sucks hard on a dildo, getting painful zaps that encourage her to do it right. As he walks away he surprises 49 with a few final shocks, just to keep her in line. She is then bound with spread legs over her head. Matt vibrates her and slides his fingers in and out of her dripping cunt. Belting her ankles to her thighs, he continues to work her till she cums, squirting a huge puddle. 49 is strung up in a cloth sack, which Matt uses as a punching bag. He brings it down onto the ground and begins to peel layer after layer off of her head, removing a burlap bag, a leather hood, and a head harness. Once the tape covering her face is at last unwound, she hurriedly spits a ball out of her mouth and gasps for air. She is left to languish tied up on the cold floor. Pulled into an inverted suspension, she dangles by her knees. Matt uses the elephant trunk to torment her in this intense position. In the next scene, a posture collar is pulled tight around her neck, restricting her breathing as she is lifted off the ground, suspended by her long blonde hair. PD ties one leg up then hangs her again, this time by a rope around her chest. Bound in a clam tie, she is so vulnerably exposed and defenseless, her holes easily accessible. PD forces anal beads into her ass then fucks her with Mr. Pogo while stimulating her with the eroscillator. He canes her ass and feet while she is impaled on the dildo then continues vibrating her. He hogties her on a bed, splaying her lithe legs wide open so that he can strike her sensitive pussy and asshole.
Year Video:
2022
Duration:
01:05:07
Quality:
FullHD
Format:
MPEG-4
Size:
2.33 GB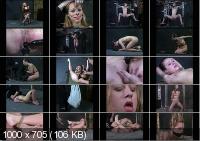 Insex – 49's Audition [FullHD/2022]
Dear visitor, you went to the site as unregistered user.
We encourage you to
register
or enter the site under your name.